Eddie Kalinowski – Environmental Health and Safety Manager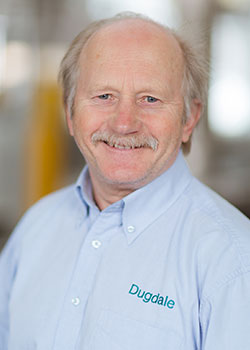 Eddie Kalinowski's technical background and 20+ years as an analytical chemist ensure that painstaking attention to detail is the keynote of Dugdale's meticulous health and safety practices.
He summarizes that 'Health and Safety is primarily about keeping our people safe from hazards in the workplace. We analyse, identify and eliminate these on a continuous basis.
It is also therefore part of Eddie's remit to ensure that the company preserves and protects the natural habitat local to the Dugdale factory by ensuring no release of hazardous material in air, land or water courses.
Health and Safety matters apply across all Dugdale departments. Eddie notes that Dugdale's flexible SME structure ensures that the business is ideally equipped to respond rapidly and effectively to all environmental and safety matters.
Outside of work, and in addition to a love of travel, Eddie enjoys fell walking, skiing and competitive table tennis in two local leagues.
Find out more