DuCaVin lead-free
DuCaVin lead-free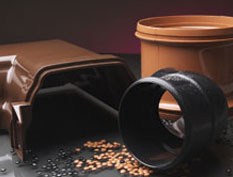 We worked in partnership with major UK building product manufacturers to create and achieve approvals for a range of calcium zinc (CaZn) injection moulding compounds for building products.
Marketed under our DuCaVin PVC brand name the grades meet the requirements of BS EN 1401 drain products, BS EN 1329 soil and waste products, BS EN 607 rainwater products and BS5255:1989 specification for waste thermoplastic fittings.
These compounds offer greater processing stability and easier processing, compared with lead based materials, plus better colour consistency, even with second and third generation material. Talk to us about how to optimise the processing of lead-free materials, guidance on tool design and how to recycle process waste cost effectively.