Textured Finish
Additives can be added to PVC formulations to provide surface finished to the desired effect. The combination of careful formulation can provide most desired effects.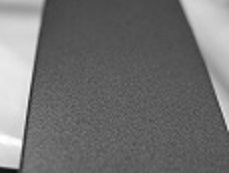 TXT
Description : A variety of rigid and flexible materials which when extruded produces a satin, matt or textured finish
Application : Asthetic apperance for general purpose profiles... More info...

RECB
DESCRIPTION: A calcium/zinc stabilised, medium impact, satin finish extrusion compound.

APPLICATION: This compound may be used for a variety of general-purpose applications, and... More info...