PVC Vinyl Records
Dugdale has been a key supplier into the resurgent vinyl record market since the 1950's when PVC vinyl records were first used to replace Sellac. Dugdale released a range of pre-coloured PVC compounds for vinyl in 2018 which overcame the historical issues of coloured vinyl sound performance not matching that of the traditional black material.
The Dugdale PVC vinyl compounds offer extremely uniform dispersion, a superb aesthetic finish and a growing range of colours, tints and special effects which offers the PVC vinyl records industry a variety of exciting creative opportunities.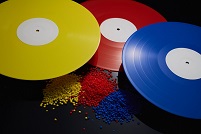 RECORD
Description : A Tin (Sn) stabilised easy flow record compound for use in 7 ", 10 ", 12 " and manual vinyl record presses
Application : Music Industry
Colour : All colours
Produc... More info...