Colour matching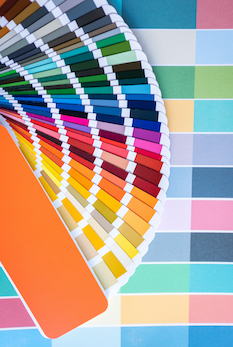 Dugdale's in-house coloured compound matching service is provided by our dedicated PVC colour team and is available for both rigid and flexible PVC compounds.
Our experienced coloured compound experts combined with Dugdale's decades of PVC colour compounding and processing experience enables us to provide our customers with an exact coloured PVC to match their branding. We work with industry recognised standards (Pantone or RAL), or a customer product to match against.
We understand just how critical a customer's branding is and so we use our colour spectrometer to manage any requested colour tweaks methodically, not only through the development stage of a coloured compound but throughout production too. This ensures that there is consistency not only within each batch but from batch to batch as well providing our customers with the confidence that their coloured PVC branding is in safe hands at Dugdale.
With Dugdale there is no compromise between the PVC technical requirements and the cosmetic colour you require from a marketing perspective; you can have both with our coloured compounds.
Whether you choose one of our standard PVC compound products from our extensive range or we develop a unique compound for your application, Dugdale's in-house coloured PVC experts will support you to meet your coloured PVC specification.
Call us on +44 (0) 1422 832501 to discuss your specific PVC colour requirements or email us: sales@dugdalepvc.com