Materials Development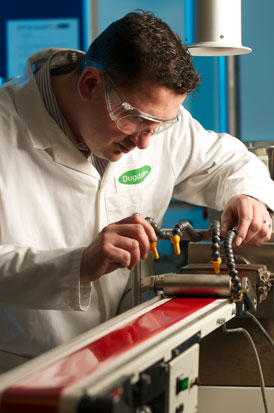 Dugdale continues to invest in research and development to alloy PVC-u with other materials to overcome deficiencies in certain areas, for example resistance to weathering, especially in coloured grades.
ASA (acryl ate-styrene-acrylonitrile) copolymer materials that enhance the weathering properties of compounds could provide a solution as they process at temperatures compatible with PVC-u. Adding ASA copolymer also raises the heat distortion temperature of PVC compounds.

Lead by a shift to lead-free stabiliser formulations material developments will focus on developing core stabiliser technology that will deliver cost competitive calcium zinc stabiliser systems as well as creating products with greater durability than is currently available.

These new materials will also possess strong environmental credentials and will offer a combination of excellent colour and UV resistance, low migratory characteristics and even anti-microbial performance.
Other developments include Ducavin DEHP-free and phthalate-free flexible PVC compounds for moulding and extrusion. These materials are recent additions to our product portfolio following customer concerns over REACH legislation. All current flexible compounds are available with these alternative plasticiser systems.

Call us on +44 (0) 1422 832501 to discuss your specific requirements or email us: sales@dugdalepvc.com